By Dan (EnviroGadget Writer) on August 20th, 2008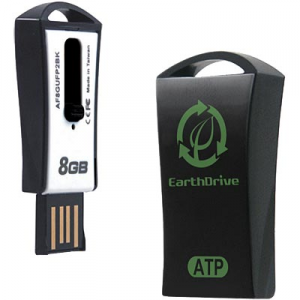 It seems that computer gadgets are a new target for the eco-friendly world, with low power PCs and disk drives using recycled materials. Today we get to see the ATP 8GB EarthDrive made from bio-recycled plastics (not sure what bio-recycled means compared to recycled!) for an attractive $48. The housing of the device is completely recyclable, although this is no good unless you want to throw the drive in the trash!
The drive is waterproof, dust proof and when you buy one of the memory sticks, a portion of the money is donated towards the cost of planting new trees (although how much it is unclear). It's nice to see some eco-friendly gadgets coming on to the market, as long as they don't exploit the eco-angle too much!