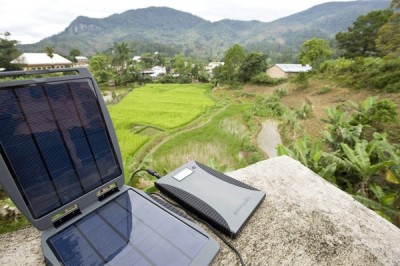 The PowerGorilla by PowerTraveller is a portable charger that is capable of charging anything from a laptop down to a mobile phone. With a substantial sized battery this charger can provide a laptop with an additional 2 to 5 hours of electricity. The SolarGorilla also by PowerTraveller is a portable solar panel device that can charge portable electronic products directly from itself through the adapters provided. Used together they can make a truly powerful charger for all portable electronics.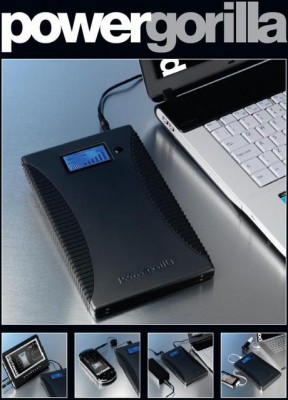 The PowerGorilla can be used to power anything from 5v to 24v, this allows the device to be used to charge laptops, mobile phones, PDAs, GPS devices, MP3/MP4 players, and many other portable electronic devices. To charge you simply set the voltage you require for the device you wish to charge, the LCD screen on the device will inform you of which setting has been chosen so you are sure you have the right one. Once the setting has been chosen you just plug the device to the charger. The device can provide between 2 and 5 hours of power for laptops depending on the make and model and up to 20 hours of power for smaller portable electronic devices.
The PowerGorilla has a powerful 21,000 mAh high density Lithium Polymer rechargeable battery at its core. The device can be charged in three ways, firstly it can be charged from a wall socket, secondly it can be charged through a USB port and thirdly it can be charged through a SolarGorilla.
The device can be charged from a wall socket while it charges a laptop or other portable electronic device. It can also power a laptop and a mobile phone at once. The PowerGorilla comes with an array of safety features to help you charge your devices safely.
The SolarGorilla provides you with electrical power anywhere. The two inbuilt solar panels are hinged to allow them to be opened to take advantage of the sunlight when required and to be safely folded away when not. It can provide 500 mAh in both 5v and 24v, to cover a range of portable electronic device needs, from those of laptops to those of mobile phones, PDAs, GPS devices and many more. To help protect the solar panels within the case has a rubberised finish to it and the device (apart from the electrical cables) is water resistant.
The SolarGorilla is capable of charging a mobile phone from flat to 100% charged in around 1.5 hours, on a day with good sunlight. The devices ability to make excellent use of sunlight through its panels make it capable of running a laptop from it on a bright sunny day even in the UK. The SolarGorilla has been designed to include a slot that can allow it to be hung from objects such as a tent to take maximum advantage of the sunlight while being safely out of the way.
Combined these products allow you to charge the large battery of the PowerGorilla with the eco-friendly SolarGorilla to allow you to be able to charge just about anything from anywhere in the world. The PowerGorilla and the SolarGorilla each come with a neoprene travel case and many different tips to allow them to charge a wide range of devices, the SolarGorilla includes a cable to allow it to charge the PowerGorilla.
The PowerGorilla costs £149.95 with free delivery.

The SolarGorilla costs £139.95 with free delivery.