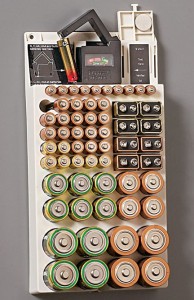 Even if you're as eco-friendly as possible, you probably still need a few batteries. Don't you find it really annoying when you need a battery, but you just can't find any? It's just as annoying when you have no idea what condition your batteries are in either! The Battery Organiser and Removable Tester is a simple gadget that allows you to store all of your batteries in a single place within a neat rack. To make it really useful, you can also test your batteries in the same place!
By keeping your batteries all in the same place, it makes it much easier to find them again. Even if a battery is not fully discharged, you can still use it on some devices. When your batteries are completely dead, you can recycle them or try charging them in a battery wizard.
The rack measures 30cm by 30cm (12 inches by 12 inches) and can store up to 66 different batteries including D, C, AA, AAA, PP3 plus some space for some button cell batteries. The organizer is available for just $11.99.