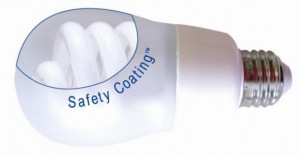 Fluorescent light bulbs seem like a great way to save on energy with lighting, right? Well yes, but there are a couple of big concerns when using them. Compact Fluorescent Lights (CFLs) are so fragile that they often break, and when they do, it's not just shattered glass that will hit the floor, but mercury as well, both of which are a major problem if you have kids or pets.
The new ArmorLite EcoSafety Coating resolves both of these concerns, plus makes those spiral bulbs look a lot nicer. Basically a regular spiral fluorescent light bulb inside a protective Safety Coating, the ArmorLite bulb looks like an incandescent bulb but will keep all the broken shards of glass and mercury safely inside the skin in the event that it breaks.
The Armalite bulb in its protective casing will be available for purchase in December for $7.99 from the manufacturer, ClearLite. The only question is, is it worth the extra money?
A lot of consumers will say yes. Fluorescent bulbs break so easily, and the freedom to use them without being worried about toxins and glass shards will be a welcome relief. And furthermore, being able to have the eco-friendly and budget-saving benefits of a CFL with the more attractive design of an incandescent is something that will appeal to a lot of people.
This is a guest post by Mitch Gimber, who writes about everything from landscaping to solar lights at Timber and Textiles.