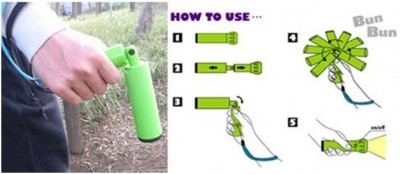 It mostly happens that we need an emergency light as torch, or when a torch in the car you are going to need but batteries went low. This is a daily life routine with most of the people around the major regions in United States or might be in other countries too. This is the wonderful named BunBun eco light- simple to use torch light with quick spin for more charging feature.
You will not require any battery for charging and storing of energy for this device, a simple quick spin feature is available there to charge the batteries and charge again.
Here are the detailed specifications of BunBun eco-friendly charging light;
Size: 30* 140* 40 mm
Weight : 97 g
Available in colors: Green, Black, Purple
Bulb: 3 Led lights
Strap : * 2
Instructions: Japanese
Here below in diagram is the simple process for how to charge and use this light.
This ingenious variation has been made by a Japanese manufacturing company LandPort with the name BunBun- a really interesting and funny name for many users. Once you have extended the handle and start bending it at hinge, this battery will charge by simply cranking for 30 seconds approximately. This short amount of charging done will give you five minutes of light to perform a short task which is pending due to load shading or sudden failure of light.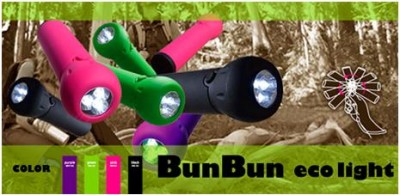 There is an attachable strap with this eco-friendly charging light, which makes it easy for you to use in backpack. This strap will also help you to save form dropping the charging light form your hand while you are moving it to charge. There are thousands of wonderful ideas which can be generated with this BunBun eco-friendly charging light and it might be possible in nature future for implementation of skipping rope handles with BunBun charging light, which will be a true follow up.  This charging flashlight is only 1.6 inches in diameter and 5.5 inches in length.
You may have no problem to eco-friendly lights which are used with either shake to charge or cranking, but this might be difficult for a person who was standing in the woods with hands tired of work and had to charge with shaking of hands for such eco-lights, however BunBun eco-friendly lights have made the things easy for hikers and travelers with its easy charging and light weight.  It will also remember of you of childhood ninja turtle Michelangelo.