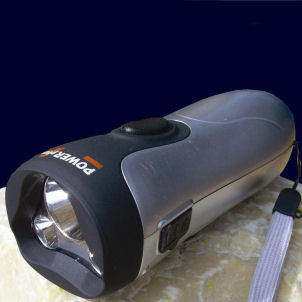 The Nighthawk is a wind-up LED torch that provides you with a bright, focused light whenever it is required. Because a dynamo is used to produce the electricity for this torch there are no worries over it running out of power when you need a torch most. The torch can also be used to provide a charge for your Nokia mobile phone.
The Nighthawk by Powerplus uses both two traditional LED bulbs (5mm) and a 'new generation' 0.5W LED bulb. These give the torch a bright focused beam of light that is highly energy efficient. The torch charges its internal battery from the kinetic energy you provide by winding the handle of the torch. This dynamo power allows the torch to be easily and quickly recharged anywhere, with no concerns over sunlight, keeping the torch charged ready for use, or worries over batteries.
The Nighthawk is supplied with a standard Nokia phone adapter cable. This allows you to charge your Nokia phone (or any device that uses a Nokia charger to gain charge) from the electricity you have generated by winding up the torch. From winding the handle of the torch for one minute you provide enough electricity to light the 5mm LEDs for 90 minutes, the 0.5w LED for 20 minutes, and provide roughly 2-8 minutes of talk time on your phone, or half an hour of standby time. When the torch battery is fully charged it can provide 12 hours of light from the 5mm LEDs and 4 hours of light from the 0.5w LED.
The Nighthawk measures only 15.5cm x 5cm (6.1 in x 2 in) which allows it to be easily carried with you wherever it is needed. The torch provides you with a powerful light whenever it is required. Its use of LED bulbs and dynamo power allows the torch to provide light or phone charge that requires very little effort or forethought.
The Nighthawk Dynamo LED Torch is yours for just £19.95.