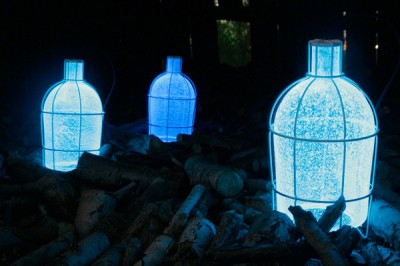 The Trap Light is a glass lamp that has had a photoluminescent pigment added. This allows the glass to 'store' light, allowing it to glow softly for hours after exposure to illumination, helping to fill a room with a magical glow.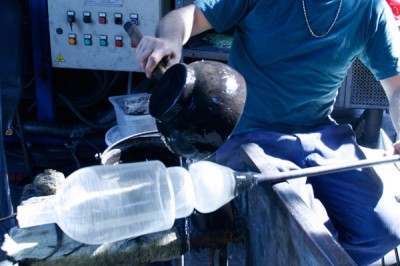 The Trap Light has been created by Gionata Gatto and Mike Thompson, it has been designed to illuminate a room without the need for much electricity. The idea is to reuse the light energy, the glass is able to absorb the energy giving off by nearby sources like sunlight, CFL, Tube lights, or LEDs due to the photoluminescent pigments within the glass, these pigments then emit light as a glow without needing to consume any additional electricity.
Each Trap Light is hand blown using a Murano glass blowing technique, the body of the glass is embedded with photoluminescent pigments and the exact shape is produced due to the use of a wooden mould. The formed lamp is then surrounded by a cage like structure to help protect it. The lamps can be wired up to have a lightbulb within them, this would then provide the light to 'charge' the glass to allow it to glow. For greater freedom the lamps can be used without a bulb, this would mean no need to position near a plug socket, or to provide batteries, just ensure that the lamp would receive illumination from other nearby light sources.
The Trap Light is thought to only require around 30 minutes of light to 'charge' and from this it could produce a warming glow for up to 8 hours (dependent on the strength of light it had access to before hand). This would allow you to be able to leave lights turned off for greater amounts of time, saving on electricity bills, while producing a magical effect in your room. The light would be useful for children, emitting a comforting glow after lights have been turned out at night, without needing to leave a nightlight running all night. The Trap light is a enchanting way to 'reuse' light energy helping to help bring down energy bills.
Source: iGreenSpot