We are all familiar with Bamboo shoots which are now being used in diverse ways such as for handicrafts, textiles (yes… Bamboo Fiber), interiors etc. You would quire be surprised to check out this mind-blogging innovation of Bamboo-that is by using them as a natural amplifies your iPhone speakers. The device is called the iBamboo speaker and uses the inherent amplification features of Bamboo to give you a clear pitch from your iPhone speaker.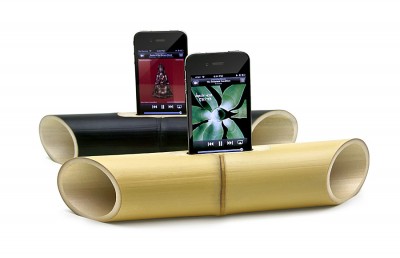 Bamboo shots were traditionally used as pipes and also in music instruments such as Flutes etc.- as the shoot provides a perfect way to transmit sound by reducing the noise and streamlining the sound waves. Here in the iBamboo speaker, a natural Bamboo shoot is cut in the middle to allow your iPhone to slide through the space. When you turn on your iPhone speaker, the sound from the speaker amplifies the sound by the natural resonance of the bamboo and gives you a clear and amplified tone.The device is Eco-friendly and 100% biodegradable and is quite an unique application of using bamboo. You can carry the speaker along with you and can use it whenever you want to. The best part is that it doesn't require any electricity or charging and is quite compact to use. It's made for Phone 5, 4 and 4S models and comes in two color-natural bamboo and black. This awesome natural innovation suits personal uses and also makes a perfect gift for this holiday season.
The device is priced a $29.0 and comes in a burlap bag and a gift box. It's shipped from Brooklyn USA and can be purchased from their website at the below link.