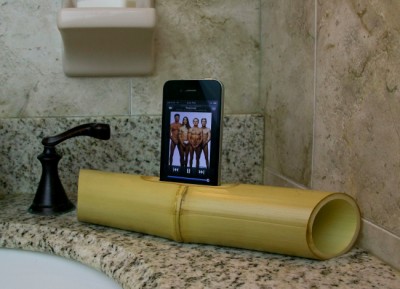 The iBamboo iPhone Speaker is a natural and elegant way to amplify the sound of your iPhone. Made from sustainable bamboo the speaker requires no electricity and is light and robust allowing you to take it with you, perfect for when you wish to share your iPhone's music while out and about.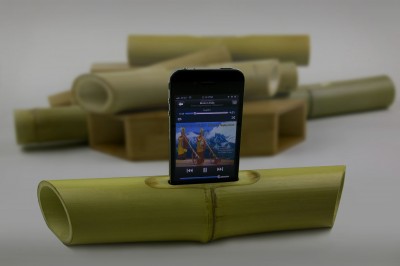 Each iBamboo is unique, crafted from a single piece of bamboo. Due to its creation from a natural material there is slight variation in the appearance of each speaker, though it will always help to amplify the sounds coming from your iPhone. Designed for the iPhone 4, the iBamboo works in a similar way to the Megaphone, resonating the sound down its length and out of the holes either end producing a stereo effect.
Bamboo is a truly sustainable material, it grows quickly and easily and decomposes when disposed of. The bamboo is machine cut to size, while the opening to allow the insertion of the iPhone is lazer cut to provide accuracy, each one is then hand finished. There is very little waste in the manufacturing of the iBamboo, adding to its environmental appeal.
The iBamboo is a lightweight speaker to carry with you, for use when camping, for a picnic, or any outdoor activity where you wish to have music. Though it will not have the same abilities as electronic speakers, its ability to amplify without the need for electricity and its use of natural sustainable material make it ideal for eco-friendly iPhone users.