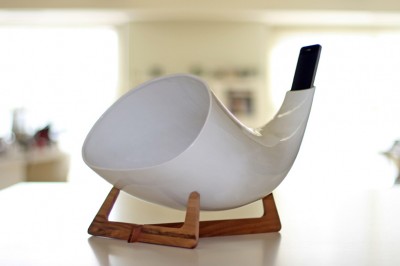 The Megaphone is an aesthetically pleasing way to boost the volume of your iPhone or iPod. The speaker has been designed to amplify the volume naturally using its smooth contours. Created from ceramic, it's a great way to share your music without needing any additional power.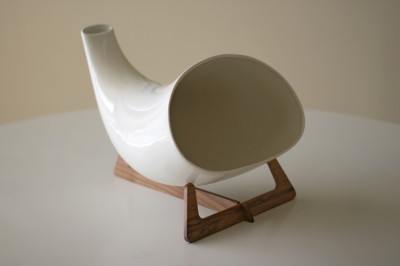 The Megaphone has been created by en&is designers Enrico Bosa and Isabella Lovero. The ceramic horn shaped megaphone sits on a thin wooden frame, the mouth of the horn has been designed to fit iPhones and iPods. Just like a horn the sound that comes in through the mouth is amplified passively by the very shape of the device, providing you with louder music without the need for any additional electricity to power the device. Because the speaker is propped up the vibrations within are maximized, helping to provide you with as much amplification of sound as possible.
The Megaphone has a natural look that is appealing to many. The simple curves and contours and sleek clean look allow the megaphone to fit into any household, allowing you to share your music with others when required. The Megaphone is a beautiful, elegant and eco-friendly way to fill your room with music, either for you to enjoy without headphones or to share with others, without causing any energy bill costs through additional electrical usage.
Source: iGreenSpot