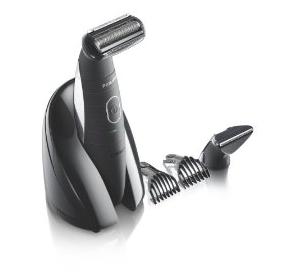 Body fitness and grooming is first preference of all the men around the world nowadays. Men have embraced the body grooming machines as well as fitness exercises for body groom. In broad sense, the body grooming feature for men is usually explained as styling, trimming or shaving the hair from males' body. Although shaving the facial is since from long time, the body grooming today is far more than in past just related to hair removal.
Nowadays, the body grooming for men is from head to toe and number of men which love to shave or trim their body hair is increasing incredibly with latest fashion rising. Even for much sensitive body zones, Philips Norleco Body groom will give the perfect finish. Following are the best performance features which are offered by Philips Norleco BodyGroom;
It is safe and less in irritation for most comfortable grooming of your body
It has shave head and integrated trim to give a close shave just in one stroke
A high performance body hair trimmer with one stroke efficiency
Embedded with extra Sensitive XS trimmer for more safety if required
It uses an Extra Large XL trimmer when required the fast results on large areas
You can create a look of your own choice, the way you like yourself to be with its five integrated length settings up to 11 mm. as compared to other trimming and shaving devices which are used nowadays, wet and dry feature is much important because shaving in shower and dry cleaning both are required nowadays. Now with Philips Norleco BodyGroom, you can get both wet and dry shave, under the shower and clean shaving. Among these categories are including the three major models of Philips Body groom;
Philips Norleco BG2030- a five attachment groomer for any body part
Philips Norelco BG2020, which is an old but a popular model still
Philips Norleco BG 2040- the latest designed Body groomer with all features in one
Based on its technical specifications given, you can get much advantage from its multiple length setting, for example in BG2040, there are five lengths setting given which an individual can select and facilities with given flexibility in men's body grooming and hair styling. This body groomer has led battery level indicator which will give low charging in advance; a handy feature because many of the groomers users take with themselves are discharged during the travel without any prior warning of it. After eight hour of charging, it can run for fifty minutes.