These Biopac Biodegradable Pint Tumblers allow you to enjoy your pint without the worry over the waste of plastic. The tumblers are fully compostable and are smash proof, perfect for use in outdoor events.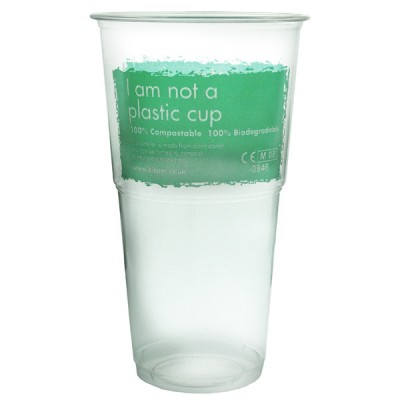 The Biodegradable Pint Tumblers are a great alternative to standard plastic. As with the Biodegradable Drinking Straws, the tumblers hold their form while stored so they should live happily in your cupboards until they are required but once disposed of or put into a compost bin they will within a few months lose their structure and totally degrade. The tumblers only start to decompose when subjected to heat, moisture, and bacteria, the typical environment for a compost bin or landfill site.
The pint tumblers have been constructed from polylactic acid (PLA) which is derived from corn starch instead of the usual petrochemicals which are used to create plastic. The tumblers have the CE mark, which ensures that they have met rigorous EU health, safety, and environmental requirements. The tumblers are shatterproof and will not splinter. This means that they cannot be used as weapons, which is great news for outdoor events or for events with young children.
The Biodegradable Pint Tumblers should help prevent a staggering amount of plastic from going to landfill. The sheer number of outdoor events that use plastic tumblers and the number of people who attend them is astounding. By switching to these biodegradable alternatives the events can become greener with the saving of waste plastic. The tumblers allow you to enjoy a drink without the concern of the disposal of the cup, great for any eco-friendly individual.
The Biopac Biodegradable Pint Tumblers are just £8.99 for a pack of 60 cups!