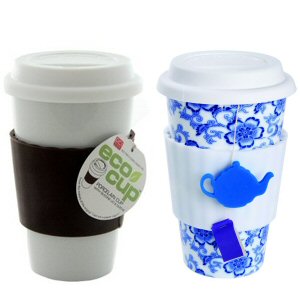 The Eco Cup is a reusable cup made from porcelain with a silicone lid and sleeve. The cup will help keep your beverages hotter for longer and by using the cup for taking away drinks or even to take drinks in from home you help to reduce the number of paper cups that go to landfill daily.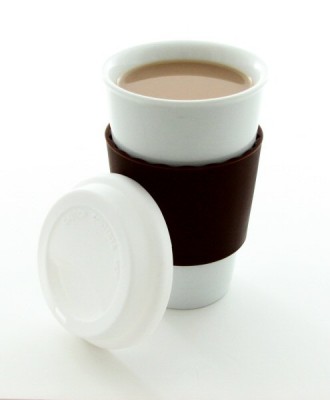 The Eco Cup has been created by the same company that brought us I'm Not A Paper Cup, and as with that cup it has been designed to replace the paper cups used by takeaway coffee houses. The Eco Cup has a single-walled porcelain design and features a silicone lid and sleeve that help it to mimic the paper cups it seeks to replace. Everyone enjoys a hot drink and the number of places you can pick up takeaway hot beverages has increased over the years. Many people daily pick up cups of coffee, tea, or even hot chocolate. The takeaway coffee houses provide you with a handy paper cup to take your drink away in, but the sheer number of these used daily adds up to a lot of paper waste going to landfill.
This waste can easily be avoided, simply take your Eco Cup to the takeaway coffee house and ask them to fill it instead. The Eco Cup is both dishwasher and microwave safe and has two different designs. The original design or coffee design is a sleek white cup with a white silicone lid and a dark brown silicone sleeve. The second design is for tea with an attractive traditional blue Chinese porcelain style design with a white silicone cup lid and sleeve, it also comes with a little blue teapot for you to hang the teabag string from. Of course, either cup could be used with any beverage, but remember to always use the silicone sleeve with the cup as the cup itself can get very hot.
The Eco Cup can take 450ml of liquid, which is around the size of a medium cup from a takeaway coffee house. Though the cup is great for use with takeaway beverages, helping to keep the contents hot for longer and not creating waste paper, it is also great for use at home for those who like to take their time over their drinks.
The Eco Cup is yours for just £9.95.