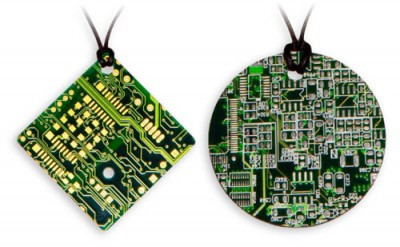 This Printed Circuit Board Necklace allows you to demonstrate both your eco-friendliness and your passion for technology in a stylish and unique way. The necklace is a gift any techno geek would appreciate and helps to provide a purpose for a material which would otherwise go to landfill.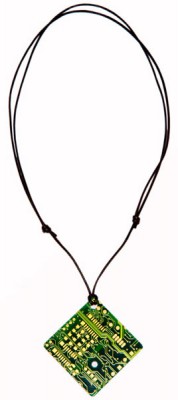 Making use of printed circuit boards (PCBs) is an important way of reducing the amount of electrical waste that is disposed of daily. As mentioned in other PCB articles like the Circuit Board Photo Frame, the number of PCBs that are produced and go unused is staggering. It is estimated that around 3% of all electronic waste is in the form of PCBs. Most electronic devices require a PCB, this constant demand means that a very large quanitity are created in a range of sizes each day.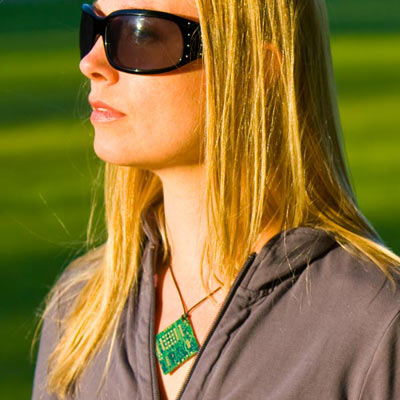 Many PCBs are never even used. This is due to the very stringent quality controls that are required and the fast pace of technological advances. These factors mean that many PCBs are disposed of straight out of the factory. It is these unused, and so never soldered, PCBs that have been acquired to produce these beautiful necklaces. Each necklace has an element of uniqueness due to the type of PCB and area of it that it has been cut from. There are two available shapes, a diamond and a circle, each one measures roughly 3.8 cm (1.5 in) in width.
Each necklace is hung from a black waxed cotton cord, the length of the pendant is adjustable, due to the slip knots used on the cord. Every Printed Circuit Board Necklace helps to give an unused PCB a purpose and a beautiful and stylish one at that. Each necklace comes in a gift box and would make a great gift to anyone who is passionate about being green, or has a passion for technology.
The Printed Circuit Board Necklaces make a great gift for either a gent or a lady and only cost $19.99 each!