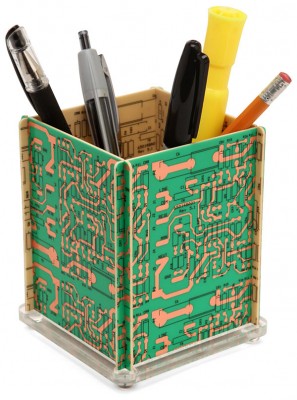 This Recycled Circuit Board Pencil Holder has been created from rectangles of the discarded motherboard. The pencil holder is a great way to keep your desk tidy while displaying your environmental and technological interests.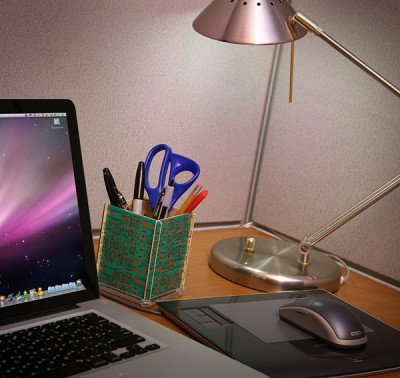 The Recycled Circuit Board Pencil Holder has been constructed from recycled printed circuit boards (PCBs). As mentioned with Circuit Board Frames, Circuit Board Clocks, Credit Card Holders, and other such circuit board products, many PCBs are created daily. The most well-known use of a PCB is as a motherboard inside a PC. These boards contain mercury, lead, and cadmium and so are not suitable for landfills, though many end up as such. Discarded motherboards include many more than those previously used in computers, as many can be obsolete as they are produced, or contain a tiny flaw causing them to be unusable.
Finding a use for all these motherboards and re-purposing them into useful daily items helps to cut down the amount of unnecessary waste created each day. This pencil holder is suitable for any desk with its modern high-tech style, this look comes from the use of a motherboard to construct the sides of the holder and demonstrates how discarded material can also be fashionable and useful. The pencil holder measures 8.25 cm x 8.25 cm x 10.2 cm (3.25 in x 3.25 in x 4 in).
Every desk can make use of a pencil holder to keep it organized and tidy, by using one created from motherboards you can help keep the planet tidy too. The Recycled Circuit Board Pencil Holder is just $19.99, which makes it a perfect gift for Christmas or a Birthday!