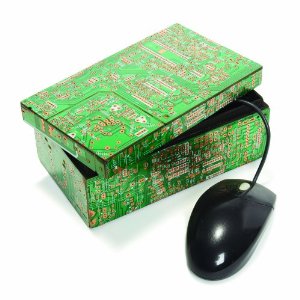 This Recycled Circuit Board Box is a great little box for storing all those bits and pieces that often end up strewn around your computer. Made from recycled rectangles of the motherboard, the box is an ideal way to keep your desk tidy while displaying your environmental and technological interests.
The Recycled Circuit Board Box has been created by Two's Company to provide you with a cool geeky box for your small storage needs. The box has been created from recycled printed circuit boards (PCBs). As mentioned with Circuit Board Pencil Holder, Circuit Board Frames, and other such circuit board products, many PCBs are created daily. They can be found in almost all electrical products, from small boards in remote controls to the motherboard inside a PC. These boards contain mercury, lead, and cadmium and so are not suitable for landfills, though many end up as such. Discarded motherboards are not just those that have come to the end of their useful life, many can be obsolete from the moment they are produced, or contain a tiny flaw causing them to be unusable.
Finding a use for these PCBs and re-purposing them into useful daily items can help to cut down the amount of unnecessary waste created each day. The Circuit Board Box is a great addition to any household, with its modern high-tech style, and obvious geek appeal. The box measures 19.5 cm x 10.7 cm x 7.6 cm (7.5 in x 4.2 in x 3 in). The box is ideal for storing stationery bits and pieces, your mouse, or other such clutter helping you to have a tidier more productive workspace…or just as a box anywhere in your home!
The Recycled Circuit Board Box is just $13.84 and qualifies for free shipping if you spend over $25.