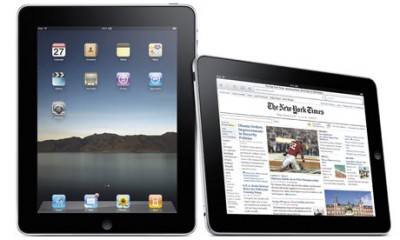 Apple fanatics worldwide have been anxiously waiting for the day that the iPad becomes available, and finally it's here! The Apple iPad allows you to surf the Internet, read books, look at maps, and pretty much anything else you can imagine. Those who are concerned for the environment are thrilled by the fact that the iPad is more eco-friendly than most electronic devices. Apple has worked hard to design the iPad with features that will reduce its environmental impact.
What can you do to add to the 'green' factor of the Apple iPad? One thing you can do is invest in a solar charger. Now readers of EnviroGadget are no strangers to solar chargers, or using them for their gadgets and homes. The iPad boasts an impressive battery that will last 10 hours between charges. However, if you are often traveling, camping, or enjoying areas that have a severe lack of electrical outlets, or you just want to stay off the grid, then a solar charger is going to be essential. It may not be as fast as a wall socket, but hey, it's green environmentally friendly! Plus… as I think we can all agree, solar chargers are just cool.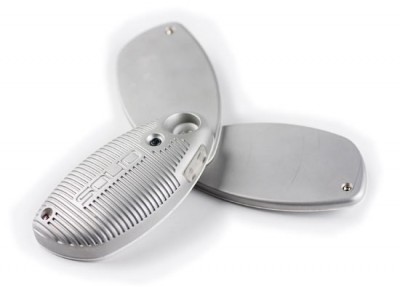 As you probably are already aware, one of the most popular, affordable, and highest quality solar chargers is the Solio lineup of products. The Solio Classic and Solio Mag (the highest end version) are uniquely designed as a fan-blade so as to get the most sunlight possible. With a 1650mAH internal battery (the Mag version has a larger 1800mAH battery) they can store enough juice to fully charge your iPad or iPhone on the go. Combined with an iGo charge adapter which eliminates a lot of the energy bleed that chargers give off, and you've got a very efficient way to power your Apple tablet. All it takes is eight to ten hours of direct sunlight and the Solio is charged and ready to go. You can read a full review of the Solio Mag here on EnviroGadget.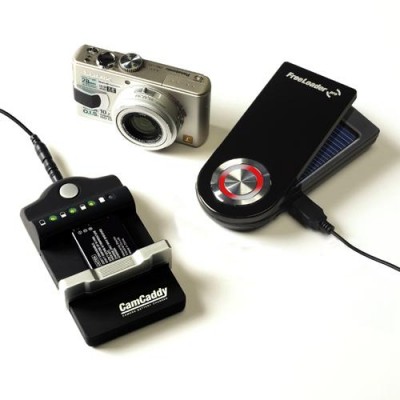 Another excellent solar charger that can be used to charge your iPad is the Freeloader Pro. Similar to the Solio in size and design, this charger has two panels that fold up into one compact kit. The internal 1650mAH battery takes around 10 hours of charging in the sun to be fully ready.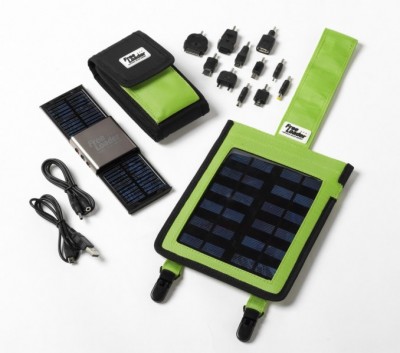 Also available is the Freeloader Globetrotter kit. The Globetrotter is a weather resistant solar charger with two super large panels that attach to the back of a backpack easily so you can charge your batteries as you go and see the world. Plus, you'll have a great excuse to go and sit in the sun for a while. It's great for day to day use as you backpack or flashpack the world. The Globetrotter is hardcore traveler tested and approved!
So be a friend to the earth and charge your iPad with the sun!
This article is a guest post by our eco geek friends over at iPad Accessories Review – the premier source for iPad accessory news, reviews, and rumors. You can find lots more information on eco friendly accessories for the iPad on their website.
Update Aug 2010: Please note, we've had reports that the Freeloader Globetrotter Kit does not charge the iPad! Please check with the manufacturer that any charging device will charge your gadgets before purchasing.
We've received a number of abusive messages and comments relating to this article. Abusive language will not be tolerated. Firstly, it's just not nice. And secondly, it's still not nice!