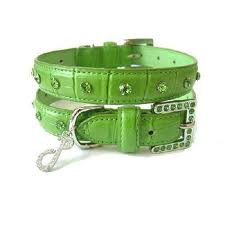 When owning a dog the last thing that generally crosses are mind is making our dogs go green. Making a dog become greener would be a task in itself but there are ways that a pet owner can help their dog go green and help save the environment while being safe as well. In the latest invention of the green world, green dog collars are surfacing.
What Are Green Dog Collars?
Green dog collars are made up out of materials that are safe for the environment and safe for your pet and you. Some of these collars may be made out of recycled materials including plastic made from recycled bottles. Not to worry though, the plastic is deeply woven so that your dog will not get hurt on the plastic. Many dogs seem to not want to chew on recycled collars. Other green collars may be made out of hemp, as well as soy plants. All of these will be great choices in getting green dog collars.
Where Can I Purchase Green Dog Collars?
Green dog collars are starting to pop up everywhere. In many popular locations such as a pet store these collars will have their very own section. The AKC sells their very own version of recycled collars right on their website. If you wish to find a green collar for your pet you can do so by looking online or at your local pet store. There are many locations online that will let you know where you can find a collar for your dog. Many green retailers online will carry green dog collars that will work well for you and your pet and help you save the environment one collar at a time.
Different Green Dog Collars
When dog collar shopping you may be surprised at how many that there will be to choose from. You will have no shortage of green dog collars and will be able to find one very quickly. Here are a few that you may find very interesting.
Planet Dog Collars This great all natural dog collar is created out of hemp which will make this a great environmentally friendly dog collar.
Scrappy Pets Collar This collar is made out of recycled leather and is a great buy for anyone wanting their dog to be comfortable and green.
Earth Collar This unique collar is made by soy fibers that have a natural anti-bacterial fiber with them helping to increase your dog's health.
Etta Says Rubber Dog Collar This dog collar is created from recycled rubber from bicycle and car tires. A great way to recycle and a great way to go green for your dog.
Getting a green collar for your dog is easy. There are many of options for you to choose from. Keep in mind what your dog's neck size is and then you can go from there. Remember to choose different designs if your dog is a heavy chewer or will wear one out quickly. Most of these collars will stand up to the test of time and help you and your dog become greener and better for the environment.