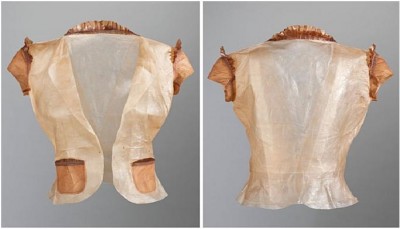 Fashion industry is always in its boom stage with new apparel designs and stuff developed and launched in the market each season, and now the organic clothing is steadily rising in coming years as green clothing. The demand for organic clothing has been increased in last few years through cotton clothes, which are highly preferred in summer season, and continue to dominate as green fashion landscape, with increased demand than its rivals like bamboo-based and jute fabrics.
A senior research fellow, Suzanne Lee from University of Arts, London can change anything for fabrics so for which we require. Recently Suzanne has published a book fashioning the Future: Tomorrow's Wardrobe that has focused about future fabrics exploration and textile technologies.
She has developed the ideas to engineer a synthetic biological textile that will be effective to prepare clothing with no carbon footprints, as compared to high level of such carbon footprints which were used in traditional clothes making. Bio Couture is the company where this project is going to be executed by Miss Lee and her project team in UK.
Organic clothing is more eco-friendly and beneficial to protect our environment and reduce the carbon footprints relating to clothing. Lee used a symbiotic culture of bacteria and yeast, Kombucha to develop a fabric named as bacterial cellulose, and this will be rightly named as vegetables leather.
Mixing of green tea solution with sugar and adding some yeast to it, which developed leather like clothing layer and this fabric could use to make clothes. As alternative to cotton fabric clothing, this cellulose fabric clothing is more eco-friendly because only cotton production needs 210000 billion liters of water and much energy is required to convert harvested cotton to thread and then production of woven fabric from thread.
Similarly, a large amount of energy is required to convert significant amount of fabric to dying and chemical treatments, and maintaining of cotton fabrics till the time when a buyer has to purchase it, because cotton fabric needs special care.
The Bio Couture fabric also uses water in small volume in the dying process and Lee uses natural stains from fruits and vegetables like beetroot and blueberries to create colored fabrics with various designs and patterns. Suzanne Lee showcased the 'Bio Couture' project during the 2011 London Design Week with a workshop at 100% Design's 100% materials stand.
This vegetable grown clothing is predicting to in the fashion industry in upcoming years after its final research is completed to allow for fabric designing.