The activities of human beings directly affect the environment, either positive or negative. Although they are effecting more as negative, if individuals are concerned about eco-friendly environment, eco-friendly clothing is an attractive option.
As compared to our general clothing fabrics, eco-friendly clothing is made from organic materials and natural dyes to reduce the use of chemicals and pesticides.
To make effective use of eco-friendly clothing, it is essential to take care of it with treatment provided to natural materials gently and extending of your garments life. It is important to take care of your garments and adopting the few simple steps can lead you to take great part in eco-friendly environmental efforts in clothing.
Here in below steps, eco-friendly clothing is detailed to take corrective steps against negative impacts on environment due to clothing care;
Step #1
Clothing which need natural fiber will require special care, read the labels for more directions given. Organic cotton has tendency to shrink more than non-organic cotton. It will also dry at low temperature. By following the instructions given by manufacturers, you can keep your clothes for longer period of time.
Step #2
When you are washing your clothes, make use of eco-friendly and organic detergents. There are many stores now which carry green laundry detergent and you can also find it in health food stores or food co-ops. When you are in doubt about soap ingredients, find the one which doesn't contain fragrances and dyes. If you have found the one with environmental protection agency design and for environmental label, DfE, it shows the EPA has verified that ingredients of this product are okay for environment.
Step #3
It is important to eliminate the washer and dryer completely from your laundry process. These two are not only tough on clothing but utilize much energy and release the gases into the air. This is important of eco-friendly clothing which is made without chemical treatment and it prevents from shrinking of the fabric.
Step #4
When your clothing is in washer and dryer, turn your clothing inside-out. Many eco-friendly clothing uses the dyes and turning them will help to retain color and protect the fabric of clothing. Wash the naturally dyed clothes in cold water and only use low heat when drying them. For first few times of washing new clothing, wash them separately to avoid the color bleed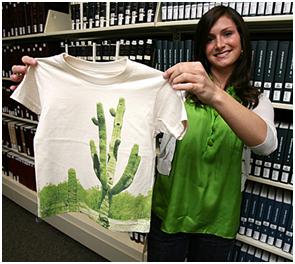 Step #5
In many of the dryer sheets, there is high use of chemicals. These chemicals damage our clothing and also affect the health. The best way to cut static without hurting your clothing, you may put a ball of aluminum foil into the dryer. This foil will function as not transferring the chemicals of dryer sheets to transfer to your skin.
Aluminum foils can be reused and they will reduce the waste more. The more we care for eco-friendly clothing; more positive impacts will be found on the environment. Eco-friendly clothing will save the energy and other resources including water, to Go Green and successfully adopt the environmental friendly policies.