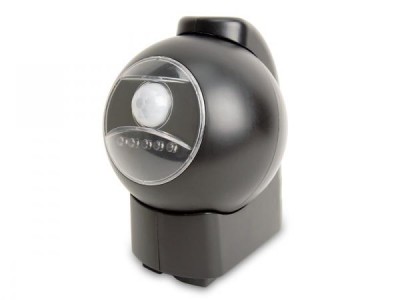 This Motion-Activated LED Outdoor Light provides powerful, low energy lighting, great for lighting any dark passages, walk-ways or gardens at night. The motion sensitive light helps to provide added security as the light can illuminate any possible intruders. This helps to both alert you to their presence and to scare them away.
The Motion-Activated LED Outdoor Light has been produced by Maxsa to provide waterproof security lighting that consumes as little electricity as possible. The light head can be swiveled 360% in any direction allowing you to position the light to illuminate the exact area you require. The built in motion sensor detects any movement that is up to 3 m (10 ft) away. The light activates when motion is detected during night time and will remain on for a further 12 seconds once all movement has ceased. The light will not activate during the day unless the photo sensor is in darkness. Full instructions and brackets for mounting the light are included.
The Motion-Activated Light uses 5 LEDs to provide a powerful, bright illumination. By using LEDs as a light source, the light is able to provide illumination that draw very little energy to provide an excellent level of lighting. The bulbs will last for around 30,000 hours, so should not require charging.
The Motion-Activated LED Outdoor Light requires 4 'C' cell batteries to operate and can support alkaline, Ni-MH or Ni-Cd batteries. This allows you to find rechargeable versions of these batteries to power the light to help it to operate in as eco-friendly a way as possible, especially if the batteries are recharged through a Solar Battery Charger or similar. The light can be used to provide lighting to any outdoor dark area or to provide added security to your home while requiring no complicated wiring nor causing a long term electrical drain.
The Motion-Activated LED Outdoor Light is yours for just $25 and qualifies for free shipping too!