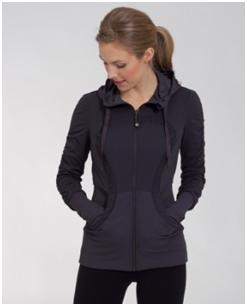 If we green it, will they come? The answer to that question -- in the fashion world at least -- is: not necessarily.As the green fashion industry continues to grow, its designers and retailers are finding out that being green is sometimes not enough for eco-savvy fashion. Most, it turns out, are still looking for great styles and beautifully soft fabrics, as well as clothing they can feel good about.
So when Mark Trotzuk began dreaming up his eco-conscious clothing line, Rio Rain, that's where he started: with the fashion and feel of the clothing.Mark Trotzuk displays some of his eco-friendly apparel at the newly opened Rio Rain boutique in Park Royal's north mall. Trotzuk was inspired to take a green approach to fashion after his daughter, named Rio Raine, and was born in 2005.
"People are still going to buy it, no matter if its eco or not eco, because of the design, style and the way it looks," says the West Vancouver resident, who serves as company president and design co-coordinator at Rio Rain.
The first item on the agenda for Trotzuk was finding luxurious and eco-friendly fabrics to inspire the new line's designs. He settled on 20 fabrics and blends, each containing at least 50 per cent organic, sustainable or recycled materials -- stretchy organic denims, super-soft bamboos, and pop bottles beautifully transformed into microfiber polyesters. Each was tested for its wear ability and feel, which is why some traditional sustainable fibers, such as hemp, which is durable but not often soft, weren't included.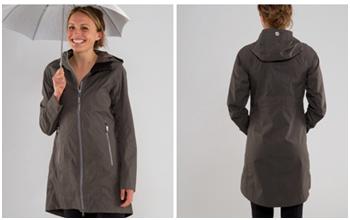 From these fabrics emerged a line of urban contemporary clothing for women and men, from suit jackets with matching skirts and bamboo dresses to fashion-forward hoodies and athletic clothing.And, knowing his customers weren't likely to pay more than a 10 per cent mark-up compared to an equivalent non-eco-friendly garment, Trotzuk set most of his prices at under $100.
After opening the first two Rio Rain boutiques in the last two months -- their first opened in Park Royal's north mall April 12, and a second opened in Kelowna in May -- the brand is poised to expand, with offers already coming in from other malls in search of new green boutiques.
But expanding won't come at the expense of the line's ecologically sensitive roots, says Trotzuk."It's the transparency and the integrity of this brand that I'm passionate about, and I need to keep, because I want people to trust us," he says.
Right now, he can tell any concerned consumers where each piece of his clothing is sourced, how the fabrics are made, and offer third-party audits of the factories in which the clothing is created according to Fair Trade standards (one factory is located in Vancouver, and two others in China and Vietnam).
Though the organic garment industry is essentially unregulated, Trotzuk says it's only a matter of time before consumers demand similarly detailed information from any clothing line claiming to be green.